Walk-in or Schedule your Appointment Below!

What is Medical Membership?
ProHealth Medical Membership (PMM) is a program with a monthly fee of $45.00 that allows members to receive a discount on medical care and medical services at ProHealth Medical Clinics.
Who is Medical Membership for?
Medical Membership is specifically designed for the uninsured, the underinsured, and those with a high deductible or "catastrophic" insurance policies.
Teladoc 24/7 virtual care access, unlimited visits, $0 copay, free yearly flu vaccine, 25% discount for lab work & procedures, and free monthly vitamin B12 shots.
One of the greatest benefits is that Providers are able to spend more time with their patients and less time filling out insurance paperwork. Such plans also provide a great degree of flexibility for Provider/patient communication because the Providers no longer need to determine how they will bill for a visit. It's a win-win for both the Provider and patient.
Covered Medical Care Services
Basic healthcare services provided for:
(additional fees may apply)
Colds, sore throat, fever
Flu-like symptoms
Minor emergencies
High blood pressure
Children's health (age 2+)
School and sports physicals
Diabetes management
Anxiety
High cholesterol
Women's health
Arthritis, joint pain
Minor laceration repair
Acute and chronic care
And much more!
Medical Membership Fees & Terms
$45.00
per month/per person
Membership fees:
$45.00/month/person
$0 copay/visit
$25 registration fee (applies unless year is paid in full at time of sign-up)
Membership terms:
Must give a credit card or allow bank draft
Minimum 6-month contract is required
Services not included: Cancer treatment, MRIs (Magnetic Resonance Imaging), ultrasounds, heart attack treatment, stroke treatment, X-rays, broken bone treatment and HIV (Human Immunodeficiency Virus) treatment

Medical Membership for Individuals & Families
Choosing Medical Membership is a practical alternative for individuals and families with no insurance or who have insurance plans with high deductibles and/ or costly copays.
Membership allows patients to pay a monthly (or annual) retainer aka "membership fee" to ProHealth which grants them access to discounted medical care and services.

Trained physicians treat a wide range of general health issues including:
Allergies
Bronchitis
Cold and flu symptoms
Pink eye
Upper respiratory infections
Urinary tract infections
What is Teladoc?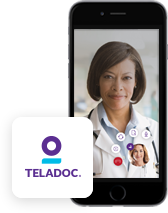 Among the many benefits of having a ProHealth Medical Membership is that becoming a member gives you exclusive access to a worldwide network of licensed medical professionals and specialists. These physicians can meet with you one-on-one, anytime, anyplace. Sign up with ProHealth Medical Membership and you'll get to log in to your very own patient portal through Teledoc. Teledoc provides on-call doctors to speak with you via phone, Internet or app.
With just your phone, you can discuss your symptoms, address your health concerns, and determine a treatment plan with a highly-trained physician or specialist. They will be able to help get your health back on track without the need for an in-person office visit and they can even call your prescription into your local pharmacy!
Teladoc access is FREE with every Medical Membership!
Contact Us
All of our locations accept walk-ins, but if you have any questions or would like to make an appointment, please contact us!