Walk-in or Schedule your Appointment Below!
Walk-in care at ProHealth Medical Clinic
Get affordable, quality care from a ProHealth Medical Provider at our walk-in clinics located in Pensacola and Gulf Breeze. Skip the high cost of urgent care. In-person office visits start at $69 for established patients and $92 for new patients. Telemedicine appointments are $75. Insurance is not required, making medical care affordable for those who are underinsured, without insurance, or cannot get into see their doctor.
Popular Clinic Services
Primary care for your entire family
At ProHealth Medical Clinic, our Providers deliver personalized care to help you live a healthier life. From minor illness recovery to chronic disease management, your provider is your partner in health. Our primary care services include:
Family medicine
Internal medicine
Screenings, yearly checkups, sports physicals, and vaccinations
Care for emotional and mental health concerns
Help managing chronic illness

Minor illness and injury care
Help finding the right specialist
Personalized treatment plans and help with your medications
Well-woman exams
6005 College Pkwy.STE.2
Pensacola, FL 32504
Phone: (850) 549-3379
M-F 8:00am – 4:00pm
Sat 8:00am – 12:00pm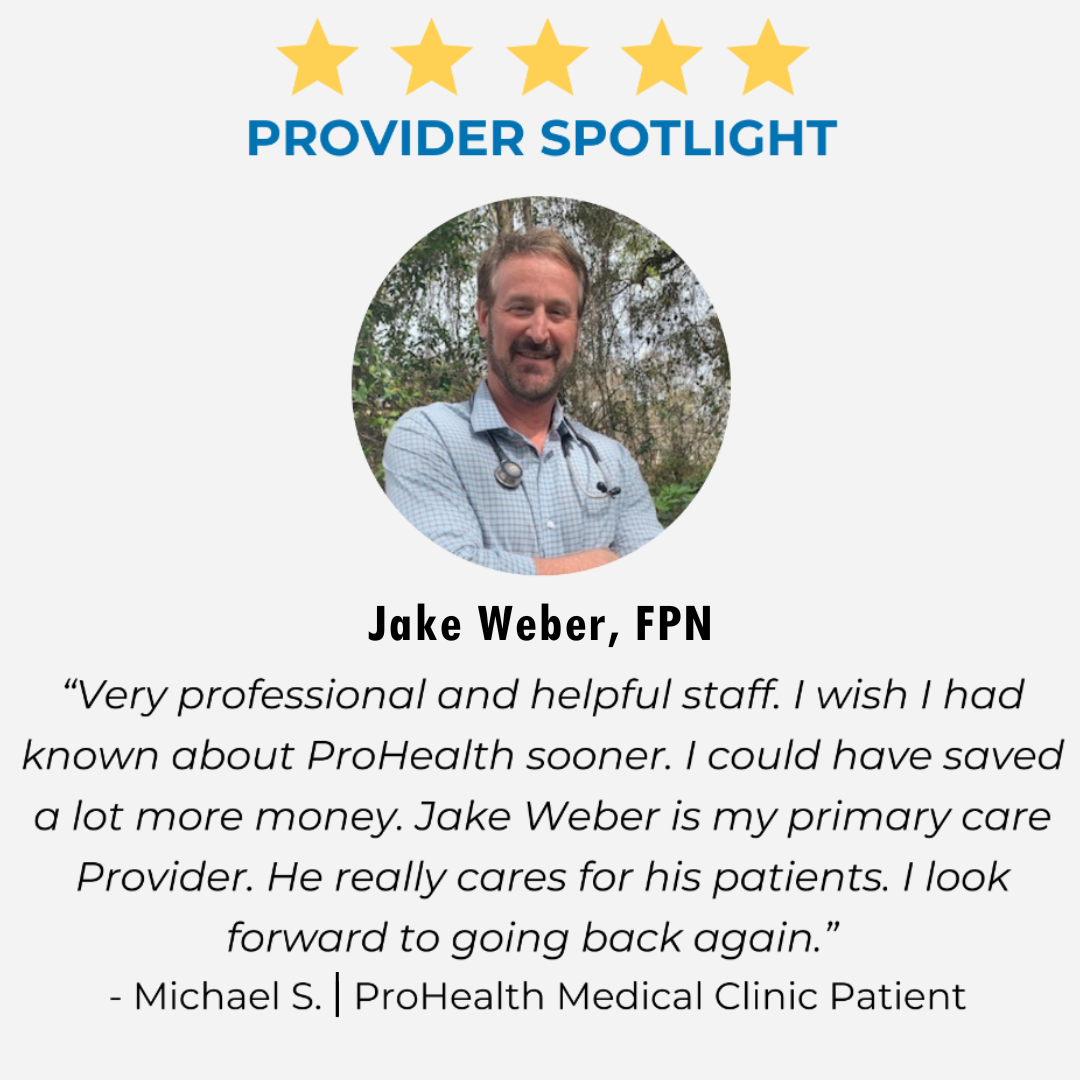 1157 Gulf Breeze Pkwy
Gulf Breeze, FL 32561
Phone: (850) 677-0737
M-F 8:00am – 3:30pm

ProHealth Medical Membership
ProHealth Medical Membership (PMM) allows members to receive discounts on medical care and services at our clinics with a monthly fee of $45.00. PMM was specifically designed for the underinsured, uninsured, and those with a high deductible or "catastrophic" insurance policy.
One of the greatest benefits is that Providers are able to spend more time with their patients and less time filling out insurance paperwork. Such plans also provide a great degree of flexibility for Provider/patient communication because the Providers no longer need to determine how they will bill for a visit. It's a win-win for both the Provider and patient.
America's healthcare system is broken
Between the high cost of healthcare and the time constraints and attitude of some physicians and health care facilities, many of us are left with little control over our healthcare and even fewer options. Skyrocketing insurance rates have forced an increasing number of people to survive with inadequate coverage or no insurance at all. Our goal is to get you feeling better – and to do it in an easy, convenient way. We like to give you a say in your own healthcare. That's right, patient control – something that's been lost in today's world of healthcare where no one seems to listen to you, and few try to understand you and your health. Unnecessary tests are ordered. Precious money is wasted. And, still, no one listens. But, that's not us. We listen with empathy and understanding. Whether you're uninsured, underinsured, or just someone needing help to feel better, ProHealth makes healthcare more affordable and more convenient.
Contact Us
All of our locations accept walk-ins, but if you have any questions or would like to make an appointment, please contact us!
Vaccines
Adult, travel, and child vaccinations are available at all of our locations. Walk-ins and appointments accepted.
COVID-19 Testing
Keep you and your family informed and safe. Find out about the latest Covid-19 testing options and testing locations near you.
Vitamin B12
Looking for a way to increase your energy? You might need more B12! Stop by any of our locations for a B12 Injection today!
Drug Testing
Employers, businesses, and individuals can get affordable 5-12 panel drug tests, plus DOT drug testing and HHS testing, at any of our locations.
STD Testing
Walk-in to any of our seven locations to get affordable and confidential STD testing. No appointment or doctor's order needed!
DNA Testing
Paternity Testing offers guaranteed accuracy of either 100% in the case that the tested man is not the biological father or 99.99% that he is the biological father.